Supervising Location Manager & Location Scout
for Film and Television productions
Tom Howard LMGI has been working in the film and television industry since 1999, as the director's assistant to Charles Sturridge on
Longitude
(first transmitted on Channel 4 in 2000). Progressing into the locations department via a stint at Amazing Space Location Library, after 18 months he left to establish himself as a freelancer. Starting out as a location scout and assistant this apprenticeship period took Tom into managing commercials, quickly into comedy (
Greenwing
&
Little Britain
) then into television drama (
BBC's Great Expectations & Howards End
) and feature length films (
A Monster Calls
&
The Secret Garden
)

In April 2017 Tom won the award for
Best Contemporary Locations in a Television Drama
for
The Night Manager
at the 4
th
Location Managers Guild International Awards hosted at the Warner Bros Studios in Los Angeles. These awards are voted for by practicing location managers and scouts from across the world and this is a high accolade for a professional location manager. Tom's career has also been profiled in the guild's magazine – Compass.
(click on the magazine cover page in the right had column to see this article)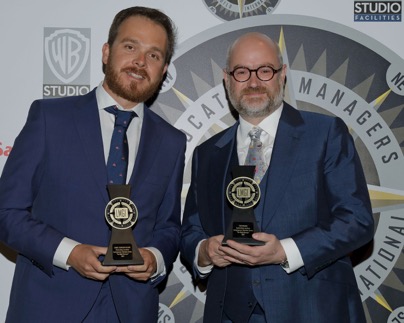 Receiving the award with Dani Sampedro (Location Manager - Mallorca)

His location scouting experience has taken Tom across the world. He has managed location filming in; Turks and Cacaos Islands, Germany, Morocco and Mallorca. Closer to home his personal scouting knowledge includes Greater London, Greater Manchester, the Home Counties, Wales, Yorkshire and Southern Ireland. Many of the locations documented are unique and un-filmed, a large digital database of 16 years of scouting is always at hand to be consulted. Tom regularly takes Fam trips sponsored by Film Commissions of various countries with a trip to Western Norway being the latest one. Scouting dramatic coastlines, fjords and taking a helicopter over Europe's largest glacier to photograph breath taking landscapes and discovering modern architecture in natural landscapes.

Tom has recently been credited with the role of Supervising Location Manager on The Secret Garden, Hanna 2, The Worricker Series and The Night Manager. This has involved managing a larger team and running multiple locations at the same time.

The directors Tom has worked with include; Marc Munden, Philippa Lowthorpe, Sir Trevor Nunn, Suzanne Bier, JA Bayona, Sir David Hare, Kevin Macdonald, Michael Winterbottom, Susanna White, Andrea Arnold and Armando Iannucci on a range of feature films and high-end television drama.

Please take a moment to look through my website. I am sure it will give you a complete overview of my skills and expertise in finding the right locations for your production.